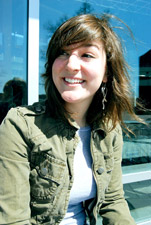 Margeaux Monsour '09
Family and Consumer Science Education Alum
Pittsburgh, PA
Margeaux explains how Messiah prepared her for this adventure (1:25 Windows video).

When most people think of rest and relaxation, they conjure up images of a warm, sunny beach or a lazy weekend, curled up in a hammock with a favorite book. Not Margeaux Monsour '09. After graduation, the family and consumer science education major decided to "take a breather" by going through the rigorous training necessary to teach whitewater rafting, one of the most dangerous and difficult outdoor programs available.
"I really enjoyed my time here at Messiah," says Monsour. "I really thought that this school was challenging academically. By the time my senior year came, I was yearning for a break. Before I went on to the next chapter in my life, I wanted to intentionally have a period of time where I could just rest and reflect on the past four years that were so forming of who I am."
The day after her graduation, Monsour, who grew up close to Pittsburgh in Latrobe, Pa., moved to Colorado, where she trained for a position she didn't even know she'd get. "The risky thing about what I did was that you have to pay for training to get your certification, but, at the end of it, you're not guaranteed a job," she says. "It was one of the hardest things I've ever done."
Despite the difficulty of the program, the attrition of those around her, and the "party culture" of rafting itself, Monsour used her training time to be a positive influence to those around her. "I didn't have one sip of alcohol," she says. Instead, her goal was to stay persistent. "Getting that job, you need to have persistence. And, stay true to your faith and to who you are, and people end up respecting you." Monsour ultimately was hired as a guide and stayed in Colorado until August 2009.
"God is in everything," she says. "I was aware of him when I was a raft guide, because I was on the river in this beautiful, natural landscape that was his artwork. I also think that Messiah taught me that you can learn things from people that are Christians and not Christians."
While Monsour currently works at Carnegie Mellon University teaching toddlers at the early education center and is applying to graduate programs in arts management, she hopes one day to revisit her time in Colorado as a rafting guide. "It was honestly the best summer of my life," she says.
Posted in 2009, About Leadership, Family Science | 3 Comments »
Posted on April 9th, 2010
---