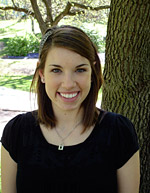 Leigh McCauley '12
Communication major
Hershey, PA
At first glance, Leigh McCauley '12 is like many other Messiah College sophomores: happy, bubbly, bright, and carefree. But, she has overcome more than the average 21-year-old and now uses those difficult childhood experiences to inspire others.
"I was an unplanned pregnancy, and my mom was a severe drug addict," says the communications major. McCauley was born addicted to drugs, with a host of medical and learning disabilities. Her father died before she had a chance to meet him. Still, she says, "God saved my life and has a plan for me."
The Hershey, Pa., native has lived with her grandmother since she was 5 years old. (When McCauley was only 6, her mother died.) From a young age, McCauley was expected to behave well and to make no excuses. "School was very hard," she says. "I had a lot of learning disabilities." Money continues to be a struggle, but she says feeling sorry for herself was never an option. "My grandma instilled in me a great vocabulary," she says. "We weren't 'poor,' we just 'didn't have a lot of money.'"
Now, McCauley tells her story—including her continuing struggles with dyslexia and ADHD—through non-profit organizations including the Second Mile, a program she graduated from that works with at-risk inner-city youth. She has spoken to groups with learning disabilities and is the youth ministries coordinator on campus at the Agapé Center, where she oversees different outreach teams.
She recently won the local Essence of Humanity award, an honor bestowed to individuals who demonstrate courage, determination, and persistence when dealing with adversity. "It's really given me a platform to encourage other people," she says. "Life is not a self-help book. It's going to be a struggle. But, we're all in this together, and, if we can put aside our differences and come together, we can all be stronger."
Professionally, McCauley plans to continue to be a mentor to young people. "I want to pass on the hope that some amazing people gave me when I was young and walk along side kids in their journey," she says.
—Noreen Livoti '02
Posted in About Service, Agape Center, Communication | 6 Comments »
Posted on May 7th, 2010
---