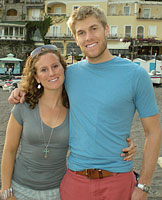 Zachary Eyster '07
Biblical and Religious Studies
Atlanta, GA
For Zachary Eyster '07, a Messiah College education meant more than just getting a degree. Instead, his four years at the College taught him a new outlook on life and changed his vocational direction completely.
Eyster credits his Messiah College experience, and especially his training in the Biblical and Religious Studies major, as helping him to appreciate the depth and diversity of the biblical text and the Christian faith. "I now like questions more than answers," says Eyster. "Everyone looks at things a little differently – not just about religion, but about everything."
While he once envisioned himself working as a pastor, Eyster later was inspired to follow a different career path in international human rights. "My passion is people who can't help themselves," he says. "What I did at Messiah made me start to care."
After earning a master's degree in ethics from Villanova University in Villanova, Pa., in 2009, Eyster applied for and received the Woodruff Fellowship at Emory University School of Law in Atlanta, Ga., where he is now living with his wife, Britney (Hagen) '08 Eyster, a graduate of Messiah's nursing program. The fellowship, which includes full tuition and a stipend, will allow Eyster to work alongside scholars at Emory's Center for the Study of Law and Religion.
"The older I get, and the more I learn, the more I appreciate the fact that I got the best education I could have ever asked for," he says. "Each professor taught me things about the Bible, religion, and people but also taught me how to think."
While his ultimate career goals are still currently undecided – Eyster has the option of finishing a Ph. D. in ethics or studying human rights law – he knows that his College experience is what opened the door to his future in the first place. "Without my experiences at Messiah, I don't know that I would have been receptive to this type of vocation," says Eyster. "I've truly been shaped in a tremendous way by my time at Messiah. I hope every current student knows what an advantage it is to be there."
—Noreen Livoti '02
Posted in 2007, Fellowship, Grad School Bound, Majors & Minors | Comments Off
Posted on June 25th, 2010
---