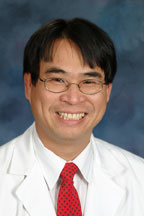 Dr. Minh Nguyen '80
Chemistry/Pre-Med Alum
Bethlehem, Pa.
When Minh Nguyen '80 stepped onto American soil for the first time in 1975 as a 17-year-old refugee from Vietnam, he was not discouraged. He applied—with the help of his sponsoring family—to more than 20 colleges, wanting to follow his dreams to become a doctor. Out of those 20 colleges, only one—Messiah—responded. The College's then-registrar gave Nguyen a challenge: prove yourself in one semester. Nguyen did just that, and he has never looked back.
In 1975 when widespread warfare broke out in Vietnam where Nguyen was born and raised, he and his family became one of many looking for a place to flee. "I was in 12th grade for a couple of months, and then the country fell into chaos," he says. The family was stationed at a refugee camp in Fort Indiantown Gap in Annville, Pa. Unable to speak English, Nyugen had no way to prove to U.S. schools that he had already completed most of his high school education back in Vietnam.
"Even though in Vietnam we were very poor, I had a very good education," he says. "But, I didn't have any papers. There was no way to prove to Messiah or anybody else that I had (completed) high school work."
Nguyen took a job as an orderly at Holy Spirit Hospital in Camp Hill, Pa., learning English through classes the hospital offered. He also learned the language from church volunteers who taught in the evenings. In 1976, Messiah College agreed to give Nguyen the chance to work toward an undergraduate degree.
Today, Nguyen—who not only graduated with a degree in chemistry/pre-med and earned his M.D. at Temple University in Philadelphia, Pa., in 1984—is a cardiologist at St. Luke's Hospital in Bethlehem, Pa. He still looks back fondly on his time at Messiah and the professors and fellow students who helped him. "The chance to take the liberal arts education," says Nguyen, "I would have not traded for anything. Doctors need not only the sciences, but the humanities, especially with a Christian world view. It's very important."
—Noreen Livoti '02
Posted in 1980, Alumni, Chemistry, Class of ..., Majors & Minors | 3 Comments »
Posted on July 27th, 2010
---